Guided walk with a science theme! If you'd like to see the beautiful city of Copenhagen, and enjoy good stories behind great discoveries, this is the tour for you! We start at 10.00 am by The Round Tower (Rundetårn) and take a walk "inside the walls" of old Copenhagen. Among the beautiful houses and squares we learn about the discoveries of some of the worlds greatest scientists and scientific discoveries. It's a great starting point for getting to now Copenhagen and it's a great opportunity to get acquainted with the history of science in Denmark.
The history of Copenhagen is deeply entangled into the history science. We'll walk through the old copenhagen city center and talk about the great scientific discoveries that took place in the fields of  electromagnetism, astronomy , geophysics and quantum physics. Along the way we'll  get an overview of the groundbreaking discoveries of Niels Bohr, Tycho Brahe, HC Ørsted, Inge Lehmann, Niels Steensen and Ole Rømer. We will look into the social and scientific environments of the times, and try to answer the question: How did they discover it?
Booking -please select date and number of visitors: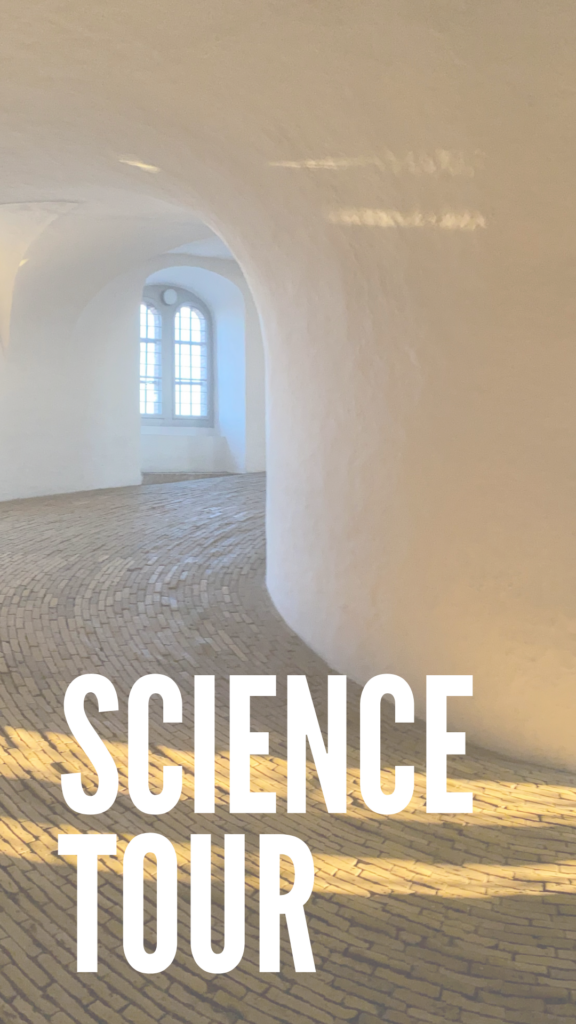 Guided Science Tour – Information
There are no prerequisites for this guided science tour – you don't need any math or physics skills to follow! (But maybe you'll learn something along the way :).
You get:
Guided walk in the beautiful old inner city Copenhagen.
Great overview of the history of science in Copenhagen – the you-must-know-this-tour.
Insight into the science and how the great discoveries came about (don't worry, we'll keep it simple unless you ask for more!).
Insight into the scientific and social environment of the times. You'll get the historical picture, which is a great way to learn and a great way to experience Copenhagen!
The best of all the myths, anecdotes and fun-facts.
Guided by MSc. in physics.
Duration approx. 1.5 hours.
Starting point: 10.00 am by The Round Tower (Rundetårn); by the trees close to the entrance to the tower. We are back at the Round Tower at 11.30. Address: Købmagergade 52A / Landemærket 3.
Dress according to the weather! We only cancel in extreme weather (which is rare) or in case of other problematic conditions.
Languages: English and Danish.
Price: Adults: 300 dkr. /40 euro.
The cost of this tour includes fees and taxes, so don't worry about extra cost.
Entrances included: Rundetårn (The Round Tower). Please note; this tour may not be fully accessible for disabled.
For our other options of guided science tours in Copenhagen; look here!